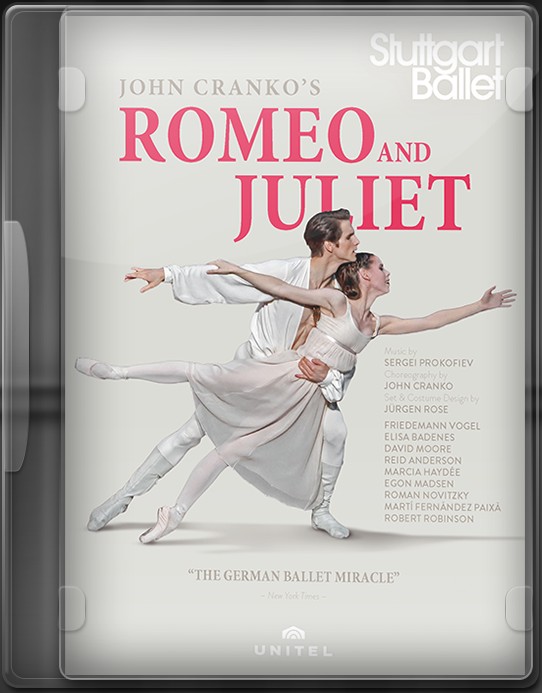 55 years after its premiere, the Stuttgart Ballet revisits John Cranko's legendary Romeo and Juliet – the very choreography which laid the foundations for the Stuttgart Ballet Miracle, the company's meteoric rise to fame. In this anniversary performance of the stunning, timeless production, experienced Cranko-performers and highly talented young dancers share the stage to tell the most famous love story of all time.
John Cranko, who led the Stuttgart Ballet from 1961 until his death in 1973, created the choreography of Romeo and Juliet especially for his ensemble. Set to the superb score by Sergei Prokofiev, William Shakespeare's story about two star-crossed lovers, caught in their families' feuds, offers dramatic roles for the top-notch soloists: Elisa Badenes shines as youthful, fresh, entirely natural and spontaneous Juliet, while her partner David Moore dances a Romeo who is expressing his love with the greatest sensitivity (Der Neue Merker). With breathtaking pas de deux, fierce swordfights and colourful ensemble scenes, the Stuttgart ensemble brings Renaissance Italy to life on stage. Jürgen Rose's magnificent sets and costumes conjure up images of the sunlit streets of Verona. This production of Romeo and Juliet is marked by yet another anniversary: Marcia Haydee, John Cranko's muse and prima ballerina, was the very first, highly acclaimed Juliet. Haydee, who followed Cranko as artistic director of the Stuttgart Ballet, participates in this performance as Julia's nurse, celebrating her 80th birthday on stage. She is joined by two other stars of the ensemble, Haydee's former dance partner Egon Madsen as Friar Lawrence and Artistic Director Reid Anderson as Lord Capulet.
If you think you've seen Romeo and Juliet, think again. This is a revelation.